If you have a project that needs some creative injection then that's where we come in! Our job is to build your website so that it is functional and user-friendly but at the same time attractive.
Moreover, we add personal touches to your products and make sure that it is eye-catching and easy to use. Our aim is to bring across your message and identity in the most creative way.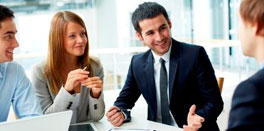 Our Mission
Our mission is to assist our clients in presenting a most professional front to the marketplace.
We help businesses innovateand grow. Let us deliver the right solution for your business.
Our Web Development Services
Understand Project
Gather requirements
Out of the box design
Proper coding
Front/Back-end testing
Security tests
Bug fixing
Timely Launch
Happy Clients
Let's deliver the right solution for your business.
We use our expertise in digital marketing, user experience, design, development, and strategy to create customized solutions to help you reach your goals.